Yuan Zhou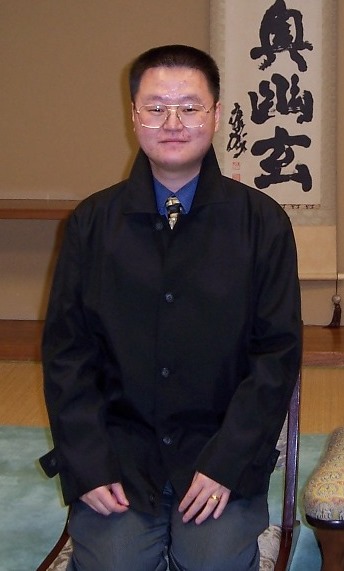 Yuan Zhou (American Go Association 7 dan) was born in Tianjin, China. Tianjin is a major city in the northern part of China, near Beijing. His father taught him to play Go at the age of six, and a year later he won the Tanggu District Junior Go Championship. After this auspicious beginning, Zhou began professional Go training while he was still seven years old. He was twice invited to represent Tianjin in the All China Prodigy Cup.
In 1989 Zhou immigrated to the USA and joined the American Go Association (AGA), became a US citizen. Zhou was the president of the University of Maryland Go club, from which he earned a BS in Electrical Engineering, and became increasingly involved in AGA events, winning many Go tournaments. Please see the list below for Yuan Zhou's 34 US Go titles. Zhou was also elected to be the AGA board of directors in 2005.
Zhou is one of the top competitors on the American Go scene, winning the Eastern US Open, one of the biggest US tournaments in 1992. He also won New Jersey Open, one of the biggest US tournaments, four times. Twice he has also won the Maryland Open, another major tournament that attracts strong players. Zhou placed in the top ten many times in the US Open, North American Masters Cup and the North American Fujitsu Qualifying Tournament. These tournaments involve the strongest North American Go players and include pros. In Zhou's Go career, he has defeated pros many times, including five times in even tournament games: Hak Soo Kim 6p in the 1996 Fujitsu, Xuefen Lin 1p in the 2001 Eastern Oza, Huiren Yang 1p in the 2009 & 2014 North American Masters and Feng Yun 9p in the 2011 SAMG World Team Go US team Qualifier. Zhou also won the US Pair Go Championship four times. Zhou represented USA in international tournaments many times (WAGC, Korea Prime Minister Cup, World Pair Go Championship, etc).
In 2009, Zhou represented USA in the 4th Korea Prime Minister Cup World Go championship in Jeonju, Korea and finished 5th place.
In addition to his competitive successes, Zhou has became a popular teacher and lecturer, frequently giving lectures and teaching lessons at various Go clubs in the Eastern US region. He has also published many books. Zhou resides in Germantown, Maryland, USA.
US Go Tournament Victories
DC Fall Open 2018
US Nat. Go Center Lunar New Year 2018
US Pair Go Championship 2012
US Pair Go Championship 2011
US Masters Qualifier 2011
US Pair Go Championship 2009
US Masters Qualifier 2009
Mid Atlantic Open 2007
Philadelphia Fall Open 2007
Virginia Open 2004
US Ing Redmond Cup 2004
US Pair Go Championship 2004

Virginia Open 2003
Maryland Open 2002
Pennsylvania Open 2002
KB Eastern US Open 2001
New Jersey Open 2001
Pennsylvania Open 2000
Mid Atlantic Open 2000
NoVa Congress Tune Up 1999
Philadelphia Open 1998
NoVa Congress Tune Up 1998
NoVa Winter Warmer 1998

New Jersey Open 1997
New Jersey Open 1996
New Jersey Open 1995
UMD Open 1995
Maryland Open 1994
UMD Open 1993
Nova Pumpkin Classic 1993
Nova Cherry Blossom 1993
Eastern US Open 1992
Nova Cherry Blossom 1992
Mid Atlantic Open 1990